Main methods:

card Visa / Mastercard issued by any bank in the world.
Apple Pay - Apple's payment system.
Google Pay - Instant payment method from Google.
The card can be in any currency. When paying, an automatic conversion will take place.

Additional methods:
Masterpass - electronic wallet from Mastercard.
Visa Checkout - a service from the Visa payment system.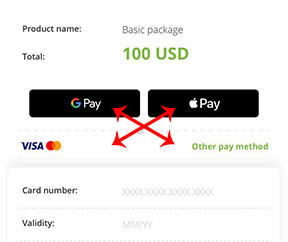 How to buy course Step-by-step
Select upper menu. Press EN to swith to English.
Choose package. Click "Buy".
Enter the data - email, name. Click "Buy".
Click "Pay with card".
If necessary, select the language at the bottom of the page. Select a payment method: Apple Pay, Google Pay or Card. Enter details, email, phone. Click "Checkout".
SMS will come from your bank. Enter code. Click "Submit".
If successful, you will see such a message. Wait a few minutes to fully complete the payment in the system. Slowly and smoothly, without sudden movements, without rushing anywhere.
Go to the email, find the letter with the subject "Welcome" or "Добро пожаловать". If there is no message, check the Spam folder. In the email, remember or write down the password ("Ваш пароль") somewhere. Click the link "Подтверждение email" (it is "Confirm Email").
Open the second email with the subject "Payment is confirmed." Click "Follow".
Click the menu.
Select "Education". In it - the item "Training".
Choose a training and lesson.
In the lesson, click big blue button. "Get a personal video." Wait a few seconds.
Play the lesson.
In the site menu, select the "Login" button and enter the login and password.